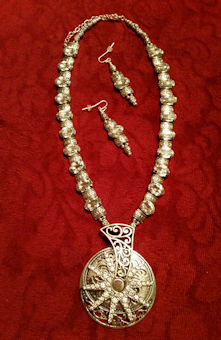 My beloved Ken has passed away, and my heart is broken!
I am still working at the Controller's Office and love my job. Was promoted to Accounting and Reporting Analyst in October of 2017. Most of my work is dealing with the state travel card program, reconciling scholarships, reporting, maintaining and adjusting Banner, and maintaining the Controller Web site.
Also, I have my hobbies, including the horses, dogs and cat, reading, hiking, swimming, riding, crocheting, karaoke, fishing, and beading or jewelry making which I began in October of 2006. I'm more of a crafter than an artist, LOL!! Part of my time is spent working on web sites for a couple horse clubs and all the documentation I maintain for the Cotton Country Open Horse Show Association (www.ccohsa.com).
Our growing puppy takes quite a bit of time and she is turning into my personal therapy dog, but still too puppyish to excel at it.