Greetings from Monroe LA. Hope this finds all of you well and ready for a big 2006. We had been waiting on the birth of our first grandchild, and traveling up to see him in order to have pictures for this newsletter (difficult to organize this year).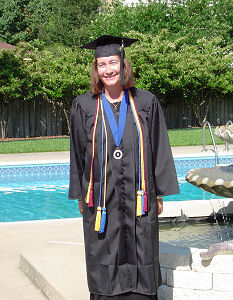 Ken was officially appointed the Biedenharn Endowed Chair in Business for the year, and has been busy editing the 3rd edition of the Advertising book, with Don Baack, and the 2nd edition of Essentials of Marketing, with Donna Lascu. The new Concise Encyclopedia of Advertising, also coauthored with Don, was released in March. Ken is writing a new book on Matthew, and is this year's Men's Breakfast program chair at St. Paul's UMC. All in all, he keeps very busy most of the time, and is really enjoying being back in the classroom again.
Susan graduated in May with a 4.0 gpa, one of three university-wide. Family, including Roy, came in for two weekends in a row to help celebrate and her mom was here for several weeks. After that, she had a relaxing summer developing her new hobby, which is karaoke. (Ken did not know that he'd signed on for this with the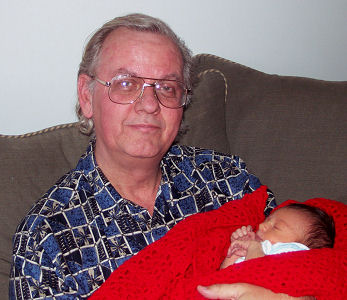 marriage certificate.) Then in August she was employed by ULM as the assistant accounting data coordinator and is really enjoying her job, which includes maintaining their website.
The boys continue to do well and are about the same as last year. However, Tim and Heather welcomed a new addition into their family - giving us our first grandchild. Jackson David Clow arrived December 10. He weighed 7 lbs. 4 oz. and was 19 inches long. (Here he is at one week old.) In addition, Tim was promoted to regional vice president at SIFE and is working on his MBA at MSU. Heather is going to have the hard job of stay-at-home mom. They are definitely proud parents!
We've also had a new addition, and a loss, in our immediate family. Unfortunately, Easton died in the spring. So in the summer, we got Lily a new friend, a 4-month-old Pembroke Welsh Corgi fluff female (Toni). She is just gorgeous and has such a fun loving nature. It's hard to believe she's a bigger food hog than Lily, but she appears to be. They are both wonderful to be around!!