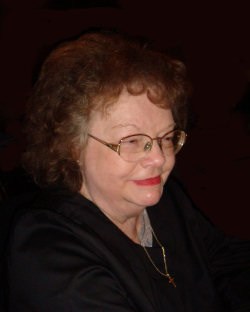 Arkadelphia, Ark. - Juanita Lee Patterson, 79 of Arkadelphia, went to be with her Lord on Jan. 5, 2010 after a hard fought battle with cancer. She also lived — and had many friends — in Independence, Mo., and Rogers, and was a long-time resident of Mountain Home. Juanita was born in Independence, on June 7, 1930, to H. Tupper and Ruby Mae Smith, and was a 1948 graduate of William Chrisman High School in Independence.
She was preceded in death by her loving husband of 50 years, W.L. "Pat" Patterson, an infant daughter, her sister, Mickey Wade, and her parents. She is survived by her four children, Ron (Diane) Patterson of Colorado Springs, Col., Susan (Ken) Clow of Monroe, La., Steve Patterson (Beverly Slavens) of Arkadelphia, and David (Lucie Ann) Patterson of Houston, Texas; a sister, Mary Kay Edwards of Liberty, Mo.; a brother-in-law, Maurice Wade of Independence; seven grandchildren, Dallas (Lauren), Wes (Tiffany May), and Tim (Heather) Clow, Roy Hatcher, Amy Patterson, and Luke and Dorothy Jane Patterson; and two great-grandchildren, Jackson and Harper Clow. She leaves behind many dear friends across Arkansas and Missouri, especially the wonderful prayer partners of First Baptist and Third Street Baptist churches in Arkadelphia, and the Liberty, Mo., and Mountain Home, Community of Christ churches.
A life-long member of the Community of Christ, she loved her Lord and taught her children to know and accept Jesus Christ as Lord and Savior. She was a founding member of the Mountain Home Community of Christ church. Juanita was a retired business owner and store clerk, and volunteered many hours with the hospital auxiliaries in Arkadelphia and Independence, making many of her most treasured friends. She also served in state and local offices for the Military Order of the Purple Heart and auxiliary (which she and her husband helped found in Mountain Home), as well as the Disabled American Veterans Auxiliary. She was a talented seamstress and an excellent cook, and volunteered for several years at Camp Quality in Bald Knob.
Visitation was on Thursday from 6-8 p.m. at Ruggles-Wilcox Funeral Home in Arkadelphia. Funeral services were held at the Ruggles-Wilcox Chapel on Friday, Jan. 8, at 10 a.m. Interment to be in the Baxter Memorial Gardens in Mountain Home. In lieu of flowers, the family requests donations be made to the Baptist Medical Center Auxiliary of Arkadelphia.